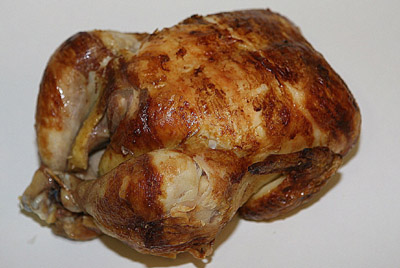 This week's inductee into Wendy's Foodie Hall of Fame is rotisserie chicken. These moist and perfectly roasted chickens truly are a busy foodie's best friend. I buy these chickens two or three times a month…you can find them at nearly every grocery store deli these days, but my personal favorites are the ones sold at Costco. Their roasted chickens are HUGE, juicy, and priced at least a dollar less than most grocery store brands I've seen. That combo works for me!!
Why is a convenience item in my Foodie Hall of Fame? Because they taste good and are so versatile, that's why! It's just Michael and I at home…although our cat, Lucy, manages to beg a bite or two from us…so we can easily get two meals from each chicken. We normally eat half of the chicken "as is" the first night with a salad and a simple side dish. Then I remove the meat from the other half of the chicken and put it in the fridge to use the next night. If I plan to use the leftover meat later in the week, then I'll freeze it in a freezer bag.
The leftover meat can be used in all sorts of ways. I use it to make chicken salad sandwiches, homemade soups, chicken enchilada filling, or yummy chicken and dumplings. Hmmm…now that I think of it, my yummy chicken and dumpling recipe might just be this Sunday's Recipe of the Week!! Having the chicken already cooked and chopped up makes the next dinner a snap to put together. After a long day in the office, even a foodie who loves to cook appreciates being able to get a tasty dinner on the table as quickly as possible!!
Now it's your turn…let me know how YOU use rotisserie chickens in your foodie adventures!!